Zero Emission City Logistics 2025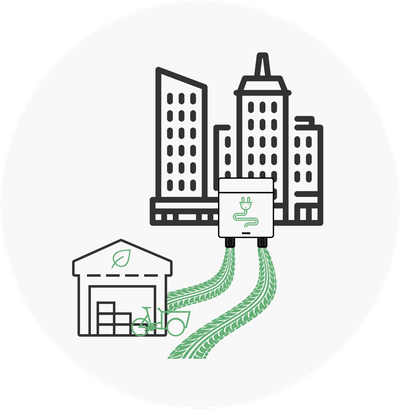 Welcome to ZES25, the platform for companies and organizations working on Zero Emissions Urban Logistics.
We are joining forces in support of our view that zero-emission city logistics will be feasible in 2025.
More information can be found on the About us page.
Why start this initiative now?
Currently, the Urban Logistics Implementation Agenda ('Uitvoeringsagenda Stadslogistiek') is being drawn up nationally in The Netherlands (April 2020), as a follow-up to the Climate Agreement ('Klimaatakkoord'). We are concerned about the likelihood some transitional arrangements and exceptions will be included, at the request national trade and interest groups, which would undermine the total climate ambition for city logistics.
However, many companies are already working on the introduction of zero-emission city logistics in 2025 and are sufficiently prepared. These companies are not sufficiently visible and are not sufficiently heard. They can make their voices heard through this platform.
Ever since the Green Deal Zero Emission City Logistics of 2014, a considerable amount of time and money was invested in zero emission vehicles, charging infrastructure, new logistics via city hubs and smart IT systems. Additionally, we will be able to assist fellow entrepreneurs and governments in this transition in the coming period. We will be able to contribute knowledge and experience, as well as invest in new business and public-private partnerships. These efforts will be able to overcome all challenges surrounding ZES 2025.
In short: We are ready to take our responsibility and save 1.0 Mton CO2 in city logistics by 2025.
What is the difference with GreandealZES?
ZES25 is a platform for entrepreneurs who want to accelerate the emergence zero-emission urban transport. This platform serves as a way to voice their interests and ambitions.
GreendealZES is a broad network set up by the government to bring companies, institutions and municipalities into contact with each other and to develop projects together.
Is ZES25 formally incorporated?
No, ZES25 is no official organization. ZES25 a spontaneous initiative of entrepreneurs who know each other from national networks for city logistics. For the forseeable time, its intent will be to prevent delays and road bumps from interfering with the implementation agenda. If the platform is positively received and is able to achieve results, it may serve as a foundation for a more formal organization.
Who will be allowed to join?
Anyone who is professionally involved in inner-city transport / distribution and who is committed to effectively reducing emissions to zero in 2025 will be invited to join. There is no exhaustive list, but these include logistics service providers, transport & distribution companies, wholesalers, manufacturers or lessors of vehicles, suppliers of charging infrastructure, bicycle couriers, city hubs, but also retail or construction companies, freelancers, city managers, etc.
Are these entrepreneurs currently not sufficiently represented?
Strong industry organizations do exist, including TLN, Evofenedex and RAI-automotive industry.nl, who actively participate in the networks for zero-emission urban distribution. ZES25 does not oppose these organizations, but strives to support the "green factions" within them. ZES25 is willing to cooperate with everyone for good results.
Are municipalities or private citizens able to join?
ZES25 is first and foremost a platform for entrepreneurs. However, we welcome other organizations, municipalities and individuals to express their support of ZES25.
Would you also like to stick to the ZES agreement in 2025 so that we will be able to save 1.0 Mton CO2 in City logistics? Then sign up!
The companies and organizations below are working on Zero emission city logistics 2025